Who's to say that young girls who like pop music – short for popular, right? – have worse musical taste than a 30-year-old hipster guy? That's not up to you to say. Music is something that's always changing. There's no goal posts. Young girls like the Beatles. You gonna tell me they're not serious? How can you say young girls don't get it? They're our future. Our future doctors, lawyers, mothers, presidents, they kind of keep the world going.
– Harry Styles, Rolling Stone
Pop music is my true passion, and I've built my career around my love for it.
After joining (read: tripping and falling head first into) the One Direction fandom in 2014, I realized that these groups of fans are some of the most powerful, passionate, and influential people out there — and yet they're often looked down on as worthless in the music world.
The driving force behind everything I do is my desire to be the voice of the fans and get them the recognition they deserve.
First and foremost, I am a creator.
Happiest when making something, I've written long-form pieces for print outlets, produced digital content for blogs and social media, and dabbled in live music photography.
But I'm also more than that.
I've learned how to interpret user data to drive all of my creative decisions. I know where the fans talk, so that I can report on the issues that really matter to them. And at the base of it all, I am a fan too.
United By Pop
I launched United By Pop in 2016 with my best-friend-turned-business-partner, Verity Harris. She lives in the United Kingdom, I live in the United States — we wanted a website that celebrated everything those two countries had to offer in the pop culture world.
She and I designed, built, and launched the website with our own two hands. We assembled a strong core team of volunteer writers who are first and foremost fans, writing from a true fan's point of view. The content we produce stands out from the usual music journalism because it's by fans, for fans. Our thousands of followers and daily views speak volumes: they like it.
United By Pop gives me the opportunity to learn something new about digital publishing every single day. Beyond writing and editing, I help manage our social media channels, communicate with publicists and record labels, organize giveaways, track and analyze user data, and constantly try new things to see what sticks.
It's been an amazing creative endeavor with immeasurable rewards. More than anything, it's helped me connect on an even deeper level with my fellow fans.


Patiently waiting for one of the boys to tweet so we can have a well-deserved emotional breakdown at work #9YearsOfOneDirection https://t.co/PdXjNyNQzD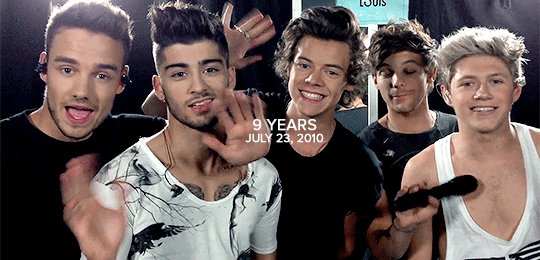 Bachelor's Degree
Stonehill College
North Easton, MA
Graphic Design
Master's Degree
Emerson College
Boston, MA
Publishing & Writing
I write highly researched pieces with 1,000+ words about pop culture and fan culture.
I create all types of digital content including blog posts, social media graphics, and podcasts.
I've studied digital photography and photo editing at Boston University, the Rhode Island School of Design, and Stonehill College.